Planning to start your blog.
Great idea!
Undoubtedly, blogging is one of the most effective ways to grasp the audience , whatever your industry or niche is.
But…here comes one question.
How will you obtain the audience for your blog?
High-quality content is of course important, however, you should be able to generate a sufficient audience to make your blog a success.
However, the presence of more than 30 million other blogs makes it hard to gain a favorable outcome.
Don't worry. This blog will help you.
The blog will provide you with excellent tips and ideas that will help you to drive a significant audience towards your blog and help you to be a blogging victor.
Let's do blog diving. 
1. Serve the Audience With Great Content
As I have already mentioned above, appealing and top-quality content is the key to create a successful blog. 
A high-quality content accompanied by the information your audience is looking for will elevate the possibilities of your blog subscription to a great extent.
Many significant tools are available to help you perform thorough content research and discover the topics your audience is interested in.
One such popular and widely used tool among the marketer community is Answer the Public https://answerthepublic.com/.
The tool enables you to get a list of associated questions just by entering the blog topic and clicking the given button.
You can easily analyze the clean visualization provided by the tool and come up with terrific blogging topics and ideas.
You can also use sites like Quora and Reddit to know more about your audience's interest.
2. Select the Right Niche
A niche is much more than a topic and the selection of the right niche can bring a huge difference to your audience and followers.
Make sure the topic you are choosing to start a blog is interesting, exciting, and related to something your audience is passionate about.
Choosing any one niche to commence a blog and spreading a variant kind of information on the same will help you to gain an extensive number of followers interested in that particular niche.
You may notice some trouble in finding the right things to write about a particular topic but once you get succeed in it, the results are going to be amazing for sure.
3. Encourage the Social Sharing of Your Blog
Social media platforms are serving as a great option to enhance the traffic no matter it is a website or blog.
Leverage social media platforms to the fullest to drive more traffic towards your blog.
More will be the number of social shares, more will be traffic on your blog.
The job can be easily performed with the help of a WordPress plugin called Social Snap
https://socialsnap.com/?ref=149&campaign=bw.
However, at the same time, limiting the number of social sharing buttons is strongly suggested to achieve better outcomes.
4. Stimulate Your Visitors to Become Subscribers
You serve your visitor with interesting content, he reads your blog and gets vanished.
This is the common scenario many bloggers are facing. Almost 70% of the visitors never come back once they visit a website or blog.
Well, an effective way to overcome this situation is to motivate your visitor to become your subscriber.
One thriving way to achieve this is to show a subscription popup form in front of the user before he starts reading the blog.
The utilization of the Optinmonster WordPress plugin is one of the best ways to accomplish the task easily and effectively.
The plugin provides plenty of design options from which you can choose for better inspiration and insight.
5. Understand Your Target Audience
The right content at the right time for the right people is crucial to generate the success story of a blog.
Hence, understanding your target audience becomes extremely crucial in the respect.
You are required to get ready with the answers to a few important questions before you head towards drafting your blog. These include
The level of expertise your blog is intended to have?
The role and occupation of your target audience?
The age group and gender of your target audience?
The subtopics you should cover in your blog?
and so on…
6. Leverage Triberr
Triberr https://triberr.com/   is a platform that enables bloggers to share one another's content.
It provides an easy way to get hold of more people and elevate the number of your audience. 
Triberr allows you to discover tribes of bloggers across a range of different topics.
You can begin with Triberr by creating your own themed tribes. This will permit you to find the community of other bloggers creating blogs under the same niche.
To achieve this, simply sign up > click on the  "tribes" tab > Select New Tribe button.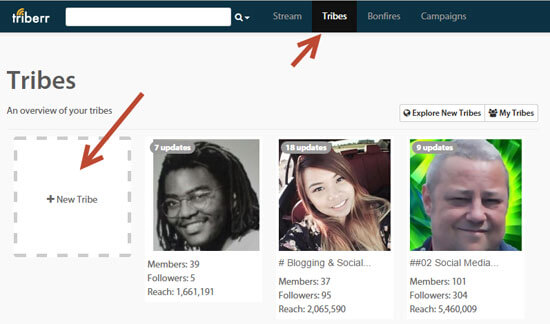 7. Promote Your Blog
Adequate promotion of your blog is a great deal to generate more audience.
The very first thing to accomplish this is, of course, social media promotion which I have already mentioned in the above detail.
However, there are many more ways apart from social media that you can employ to promote your blog. These include 
Sending emails to your subscribers.
Sharing the blog on different social bookmarking sites.
and so on…
8. Review the Loading Speed of Your Blog
Last but not least in the list is the loading speed of your blog.
The poor loading speed of any website or webpage is annoying and one of the major causes behind its abandonment.
Suppose your blog is a perfect match for your audience's interest and expectations and has great content to serve.
But when a user comes to read it, it takes more time than usual to get loaded. What will happen? Of course, you will lose the visitor.
However, to make sure the situation does not arise, do review the loading speed of your blog and take the necessary measures for improvement if required. If you want to avoid all this hustle, contact Indylogix Solutions for credible blog content and management service. 
Execute  all these practices and you will certainly score good traffic on your blog. Now is the right time to launch your blog with bang . Good Luck Guys!