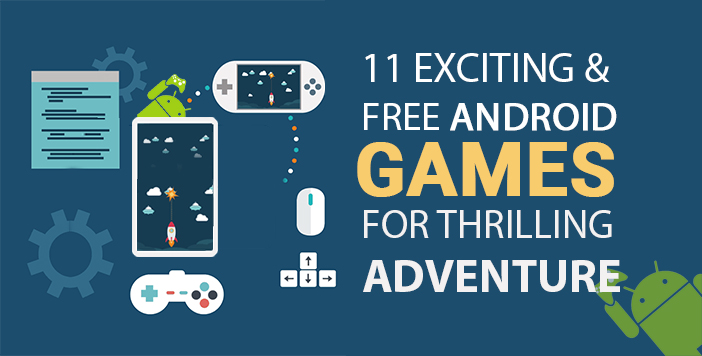 Dear game lovers,
Baffled with a list of games on the application store? Confusion and excitement is a bad combination.
I am sure you must be having a hard time making the right choice. Even though you find some fancy options, the price tag might have scared you.
Don't worry. I am here to make up your gaming mood strong.
This blog aims at introducing you to a list of Android games you can play and enjoy without giving much stress to your pocket.
Let's start the adventure –
1. Rowdy City Wrestling Rowdy
City Wrestling is a wrestling game intended to run on Android devices.
The game provides a variety of characters and many different modes to start with it. The career mode of the game enables you to commence as nobody and find your way right towards the RCW World Championships.
Also, the game includes excellent retro design and spontaneous controls that make it a perfect choice for one and all interested to play or enjoy wrestling.
2. Beach Buggy Racing 2
Beach Buggy Racing 2 is a racing game that enables you to play against the world.
The game provides a collection of more than 40 cars including monster trucks, muscle cars, classic pickups, and formula supercars.
You can also customize your desired car in the same way you want.
The game is specifically designed for children above 13 years of age and is available on Google Play for free installation and use.
3. Disc Drivin 2 Disc
Drivin 2 is an interesting game that revolves around moving your disc on the route.
The game incorporates 15 different tracks comprising distinct challenge levels. Also, various different options including pizza, monster truck tire, and cake are available to customize the disc and make your gaming more interesting and enthusiastic.
The worst part of the game is you may experience the arrival of ads very frequently that may create disruptions and misleadings in your playing experience.
4. Asphalt 9: Legends
Asphalt 9 is the most popular racing game run on Android devices. A huge collection of 50 cars, a pack of challenges, and the presence of enormous content make Asphalt one of the top choices of game lovers owning Android devices.
The game holds superb graphics and playing atmosphere, however, one drawback that has disappointed many users is the inability to control acceleration.
The game is free to use and easily available on the Google play store to download and use.
5. Alto's Odyssey
Alto's Odyssey is a free to play game and an attractive choice for many Android users. It is a jumping game with excellent design and a calm style.
The game asks the user to make massive moves to escape obstacles and reach the destination.
It is a simple yet effective game with cool color combinations capable of providing a perfect gaming environment.
You may encounter some in-app purchases while using the app, however, they are completely voluntary and will not affect your way towards a wonderful gaming experience.
6. Call of Duty
Call of Duty is an extremely popular battle game available for mobile devices.
The game offers excellent 3D graphics as well as sound and provides a range of appealing game modes and maps.
The game contains a 100 player battle royale mode just like PUBG and Fortnite. The game is a free-to-play game with a couple of in-app purchases.
7. Critical Ops
Critical Ops is a free to play shooting game in which you can either fight against terrorist or can opt to become a terrorist.
The game has a strong online player community that gives you an opportunity to play with your friends, near and dear ones.
The development work on the game is still in motion and the game encounters updates on a regular basis.
However, you can locate and download Critical Ops from the Google play store to enjoy playing the current version.
8. Legends of Runeterra
The Legends of Runeterra is a cards game that asks the user to assemble cards, create decks, and satisfy the winning condition.
The game is quite new in the list of Android games and provides the user with a flawless gaming experience.
9. Data Wing
Data Wing is a racing adventure that administers the crucial data across the computer system.
The game provides instinctive two-touch controls and offers more than 40 levels to clear.
One of the most attractive elements of the game is its delightful sound system. Also, the graphics used in the game are remarkably striking and elegant.
10. Pocket City
Pocket City is a city planner game that allows the gamer to create its own city.
The game provides the options to build residential, industrial, and commercial areas in the city, Also, there are options to include parks and recreation places. The graphics of the game are excellent and the game is a perfect fit to provide the user with hours of fun and excitement.
The above details are associated with the free version, however, the paid version is also available with enhanced features incorporating more entertainment and enjoyment
11. Splash Cars
Splash Cars is a multiplayer riding game that allows you to unite with your buddy or even an unknown person and fight the two v/s two paint battles.
You can make a choice as per your likes from an array of splash paint cars.
The game is a real fun with great competition and challenges. Also, the controls as well as UI of the game is clear and pleasant.
Guys, the list is a huge one however, I have included the best ones! I have played these games for hours, please share your experience.
Thank You!!